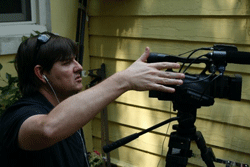 It has been two and a half weeks since I started filming and what a ride it's been.  I left Bogota, Colombia where I now live, on August 1 and since then I have been to the US (Austin, Tampa, Washington DC), Ireland (Cork), the UK (London, Manchester), the Netherlands (Amsterdam, Nijmegen), and now to Spain (Barcelona, Burgos, Santiago and Madrid with a few small pueblos in between).  We are in process of capturing our first videos for the site and for the video guides.  We believe that life is out there and with the travel schedule I've been keeping, we're definitely out there.
Up until Spain, I was out capturing the stories of people I had met along the way who have taken their own career break.  In a few more weeks, we'll have those stories up on the site ready for viewing.  Some people we interviewed were looking to make a clean break, others just needed some time off for one reason or another.  Some went alone, others went with friends and others went as a couple.
I flew into Barcelona on hour of sleep.  As I was packing up I noticed that a bottle of face cleanser open up in the main part of my backpack.  Such a rookie mistake…I should know to put something like that in a ziploc bag.  Well, the only way to clean up the mess was to put my backpack in my friends' shower…at midnight…and then blowdry the backpack so it would be dry in time for me to pack up and catch my flight.
Once in Barcelona, I met up with my friends Pepe and Noemi who I met a couple of years ago in a tiny bus station in the middle of Argentina.  You never know who you're going to meet and who will become lifelong friends.  Noemi agreed to let me film a part of her journey on the Camino de Santiago, or St. James Way, the nearly 1000 year old pilgrimmage route ending in northwestern Spain in the city of Santiago de Compostela.  The Camino will be one of our episodes in our Spain guide.  After landing at 9, Noemi and I were on the train at 12 to Burgos where we would start our walk. She had already completed 2 major sections before.  Since Burgos was the last place she ended, it was the place for her to start up again for this segment which would take her to Leon.
We were met at 7 that night at the bus station by the brother of a neighbor of hers who agreed to let me store my stuff at his parents apartment while I was on the road.  Considering that it is advised not to carry more than 10 kilograms on the walk and I had about 35, I needed to find a place to store the excess.  It is always good to know people and these people let me drop my stuff off for the few days I would be on the Camino.  I walked out of their place only with a single small backpack which included a few toiletries, a few clothes and my video camera.
I am always surprised at the inherent goodness of most people.  To these people I was a virtual stranger, an outsider wanting to leave his bags at their place.  In fact, they didn't even know Noemi.  But, because she was a neighbor of their son in Barcelona and I was her friend, that was good enough for them.  I really owe them a huge debt of gratitude because if it wasn't for them, I'm not sure what I would have done to get the filming accomplished that lay ahead of me.
Tags: career break, career break advice, career breaks, gap year, sabbatical, travel, video travel guides, work break