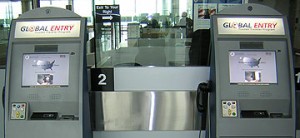 Did you know the US Customs and Border Protection Agency (CBP) is piloting a program to help you get through the immigration and customs lines at the airport faster? I didn´t either…until this March.  I took a quick trip back to the US, part business, part pleasure. I took a red-eye flight from Bogota to Houston where I arrived at the criminal hour of 5AMish.  Ah, the things we do for a cheaper fare.  My flight arrived with many other international ones causing long lines that morning.
While standing in line, I saw a kiosk filled with brochures promoting a Department of Homeland Security program called Global Entry designed to get you through the lines quicker.  To be fair, the line, while long, moved fairly quickly.  In fact, Houston is one of my favorite US entry points because the system actually works there compared to others (I´m thinking of you Fort Lauderdale; trust me, you will want to be a Global Entry participant if you go through this airport).   Unfortunately, the information kiosk was poorly positioned away from us so I wasn´t able to pick up a brochure while in line. But, after doing my research online later, I applied and was approved this week as a ¨Trusted Traveler¨.  On its face, it seems like a great program. And, I thought I would help spread the word to my fellow frequent international travelers.
The 5Ws and 1H
Let´s cut to the chase so you can get your online application started. Here are a couple of important links to the program.  Global Entry Program Overview and the Enrollment Page.
What: According to the CBP´s Information Guide, ¨The Global Entry pilot was developed to implement a single integrated passenger processing system that will expedite the movement of frequent international air travelers. Global Entry provides an alternative Passport Control process for pre-approved, pre-screened eligible travelers.¨ Keep in mind that you can still be selected for secondary screening of your baggage. You don´t get out of that.  This program is focused on processing you quicker. So don´t think you get a free pass to enter the US with anything you couldn´t before.
Who: Open to US adult citizens and lawful permanent residents of the US.  Kids between the ages of 14-18 can apply with parental consent.  If you´ve had problems with the law, you are probably not eligible.  The program is also working with the Dutch authorities.  Please check the CBP website for more information on that part of the program.
Where: 20 US airports currently participate in the program. But, not all US ports of entry are part of the program yet.  It is still in the pilot phase of testing. These are airports part of the pilot according to the CBP website (info as of April 8, 2010).
Boston-Logan International Airport (BOS)
Chicago O'Hare International Airport (ORD)
Dallas/Ft. Worth International Airport (DFW)
Detroit Metropolitan Airport (DTW)
Ft. Lauderdale Hollywood International Airport (FLL)
George Bush Intercontinental Airport, Houston (IAH)
Hartsfield-Jackson Atlanta International Airport (ATL)
Honolulu International Airport (HNL)
John F. Kennedy International Airport (JFK)
McCarran International Airport, Las Vegas (LAS)
Los Angeles International Airport (LAX)
Miami International Airport (MIA)
Newark Liberty International Airport (EWR)
Orlando International Airport (MCO)
Philadelphia International Airport (PHL)
San Francisco International Airport (SFO)
San Juan-Luis Múñoz Marin International Airport (SJU)
Orlando-Sanford International Airport (SFB)
Seattle-Tacoma International Airport-SeaTac (SEA)
Washington-Dulles International Airport (IAD)
When: Enrollment is currently open to eligible travelers.  If approved, you are enrolled for a period of 5 years.
Why: Because you are a frequent traveler and you hate standing in lines and want to move on to your connecting flight.  You also don´t have to fill out the blue form.  You will use the machine to enter the information the government requires.
How: The process is pretty simple and straight-forward. Kudos to the design team.  It´s very simple and it´s all managed online.  Here are the steps I went through.
Visit the Enrollment Page to register and create an account on the system.
Complete the online application. The key data points are some personal identification information, address history for the past 5 years, employment history for the past 5 years, and some other questions to determine your eligibility.  It all seemed very straight-forward. Keep in mind, you are agreeing to a background check by going through this process.  And, there are penalties for providing false information.
Pay the $100USD application and enrollment fee. No, it´s not refundable if you are rejected.
CBP will then review your application.  You will receive an email when the review is complete.  You will find a ¨Conditional Approval Letter¨ online in your secured account.
Log back on to the system to schedule your appointment for an in-person interview.  I found that there were ample appointment times. And, I was pleasantly surprised at how quickly I could get be seen. In fact, had I been able to get to Houston the next day, I could have been seen.
Print your ¨Conditional Approval Letter¨ and your interview confirmation.  Don´t count on CBP having a printer you can use.  I don´t think it´s a deal breaker if you show up without it. But, do your part to be prepared as the benefits are certainly worth it.
Interview with a CBP officer.  At a minimum, you will need your valid, machine-readable passport or permanent residency card, and one other form of ID like your driver´s license.  Please double-check with the office or online to make sure you take everything you need.  You will also be giving your fingerprints and taking a photo during the interview.
If you are approved, you will be given a sticker in your passport indicating that you are part of the Global Entry program.
I´ll keep you posted on my experience entering the US when I head back in June.
Pilot Feedback
Having run pilots myself, I know the value of feedback.  So, CBP, if you are reading, here are a couple of suggestions for you.  Overall, I think it´s a great program. And, I´m excited to give it a try when I go back to the US in June.
What I Liked
The enrollment process was simple and straightforward.
The appointment ran on-time and was not delayed.
The mock run-through with a real machine gave me confidence that this really is a major improvement over the current system.
The CBP officers were courteous and professional. I was asked several times if I understood everything and if I had any questions for them.
I am still happily incredulous that I can avoid the lines and the paperwork.
What I Think Needs Improvement
Move the information kiosks closer to the entry lines.  Make it easy for people to get the information. And, if they are standing in line, you have a captive audience that has nothing better to do than read about the benefits of the new program.
Revise the printable instructions on how to find the enrollment office.  I scheduled my appointment during a layover in Houston.  I had trouble locating the office because it wasn´t clear how to find the office from inside the secured part of the airport.  Make sure the directions match the signage in the airport.  And, include a map if at all possible.
Train the TSA to direct people to the correct CBP office.  Since I couldn´t find the office at first, I approached several TSA officials.  Most were not familiar with the program and one directed me to the wrong office. All were well-intentioned. They just didn´t have the right information.
Read my follow-up article about my first experience with the Global Entry system ¨Is the Global Entry Program Worth It? Yes, and Here´s Why¨
If you like this post, sign up for our newsletter or subscribe to our RSS feed to keep up with Career Break Secrets' career break and travel advice.

Tags: travel advice