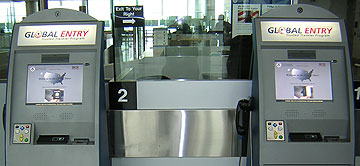 For frequent readers of the blog, you know I'm a huge fan of the US Customs and Border Protection's Global Entry program. In previous posts I've told you about my Global Entry application experience. And, I wrote a Global Entry review. On a recent trip through the US, I thought I would time myself to see how quickly I would actually pass through immigration. On previous trips I saw first-hand how quickly I was passing through immigration at the US border. But, I wanted a real number this time.
I disembarked from my flight from London in Houston, checked my watch. Off the plane I went and walked through the hallways over to the Global Entry kiosks. Now, I tend to walk fast, really fast. May god help you if you're on the people mover and standing in the left lane. Not that I'm outwardly aggressive, but I will make my presence known.
Passport out. Passport scanned. Fingerprints scanned. Questions answered. Entry card printed. Card handed in.
Total time: 8 minutes.
Not that my luggage would have arrived that quickly. I was only changing planes in Houston so I was free to move on and head towards my connecting gate and let my bags head towards my connecting flight (a special thanks to the TSA for opening my bag and leaving me a pre-printed love note. Yup, bags can still be checked and opened folks).
So, now that Global Entry is working well. I have one suggestion. Since Global Entry members are already "Trusted Travelers", is there any way you can give us a special line to bypass the TSA line after clearing customs? I know there's something going on with the TSA and Trusted Travelers. Please tell me that is part of the program expansion.
If you like this post, sign up for our newsletter or subscribe to our RSS feed to keep up with Career Break Secrets' career break and travel advice.
Tags: Global Entry Program