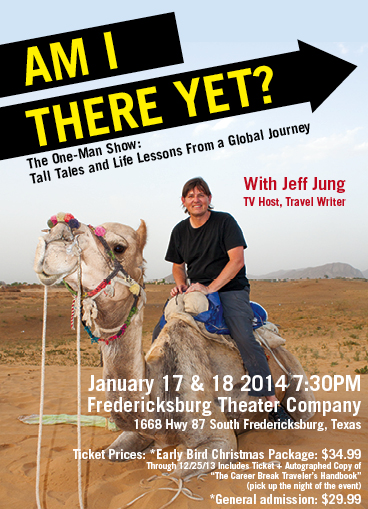 For most of the time I've been running Career Break Secrets, I've connected with you from afar, from the ether of the internet and social media. No matter where I am, the internet allows me to publish and stay in touch. I'm still amazed at how things have worked out so far.
I've connected with people from all over the world, in all parts of the world.
I've had the chance to work with some great travel companies.
I've been invited to speak at a number of travel conferences in the US and Europe.
I was asked to be part of the initial group of authors to launch a new travel publishing brand.
And, most recently, I have a TV show on a new travel channel that's going global.
All of the above has allowed me to live overseas wherever a decent internet connection exists.
Not bad for a guy who grew up in rural Texas.
BUT SOMETHING'S BEEN MISSING
It hasn't all been rainbows, sunshine and ice cream. There have been many failures and disappointments along the way. I tend not to write about many of them because my transition to digital entrepreneur never seemed like something relevant for an audience interested in learning about how to take a career break from their jobs to go travel.
On balance I can't complain. The short-term stumbles have not prevented me from moving forward on the vision I laid out for Career Break Secrets back in 2009. But, there's still something missing.
For most of the time in building up Career Break Secrets, I've had to be behind the screen of a computer – writing, Facebooking, tweeting, editing, etc. While on the one hand I've met (even if only virtually) thousands of people from around the world – some at their planning stage, some during their traveling stage, and some who are career break veterans – I've felt isolated. Being a digital nomad has in some ways reinforced the isolation and lack of camaraderie that only comes with in-person, face-to-face interactions. On the one hand social media and blogging meets my social needs and allows me to have a positive impact on people's lives – just what I always wanted to do. But, it's also perversely made me a shut-in, making it harder to connect with the very people I want to inspire and help take a career break.
The motto of Career Break Secrets is, ¨because life is out there.¨ And, I feel like I'm not out there with the people I want to be meeting. Sooooo,
IT'S TIME TO CLOSE THE GAP, REENGAGE AND RECONNECT
Simply put: I'm returning to the US to perform at live events.
I'm getting away from my seat behind the computer and moving directly in front of people – Real. Flesh and Blood. People. I'm going out to meet people who want to take a career break – those that just want to find out more, those that want to do it and just need a bit of a nudge, those that are already planning and want to share their story with me. The online world is incredibly powerful in helping make connections. And I won't back away from the online world. But, I'll use it increasingly to facilitate in-person meetups. After all, there is still nothing like face-to-face interactions.
STEP ONE: THE ONE-MAN SHOW IN JANUARY
As the old saying goes, think global and act local. For me that means going back to my hometown of Fredericksburg, Texas in the Hill Country of the state. While it may seem like an unlikely place to start, but that town has turned into a cultural hub in the region with tons of festivals, plays and a great variety of restaurants. And, while I haven't lived there since 1995, I feel the need to reconnect with the family, friends and community there in central Texas. Frankly, I wanted to start in a friendly environment.
Here's a fun fact. The last time I was on a stage in central Texas, it was to perform in a summer production of The Best Little Whorehouse in Texas. No shit.
QUICK SHOW SUMMARY
I'll write more about the one-man show soon. But here's what I can tell you.
Name: Am I There Yet? Tall Tales and Life Lessons From a Global Journey
Type of Show: It's a one-man show in which I share how a guy from central Texas transformed into a world traveler. I'll share my quirky stories about the crazy stuff that's happened to me while traveling and lessons I've learned about travel and life along the way. No doubt my self-deprecating humor will make an appearance. You'll laugh, you'll cry, we'll bond. And then probably meet up at a local bar for a nice German beer.
Time and Date: 2 nights only on January 17th and 18th, 2014, at 7:30PM
Where: Fredericksburg Theater Company, Fredericksburg, Texas
Tickets: Tickets are on sale via Eventbrite as of November 1 for $29.99. And, I'm offering a Christmas special for those that buy a ticket early. For $34.99 you get a ticket and an autographed copy of my book, The Career Break Traveler's Handbook.
Who Should Attend: Theater goers, travel aficionados, armchair travelers, groups of friends, my high schools friends who live in the area, my family, tourists going to Fredericksburg for the weekend.
Buy your ticket today at Eventbrite. And, don't forget, it makes for a great gift for your friends and family. What else are you going to be doing in the dead of winter?
Tags: career break advice, career break travel, Speaking tour