This post comes from Elizabeth Pagano, one of the co-founders of YourSabbatical. Elizabeth has personally helped lots of people negotiate their sabbaticals with their companies. So, I asked her to share her insight and expertise with us.
While many more companies are offering paid and unpaid sabbatical benefits to their employees, not all are. But, that doesn't mean there aren't things you can't do to gain the support of your employer.
How to Negotiate Your Career Break or Sabbatical
Now that a growing number of companies offer sabbaticals, the dream that many people have of taking extended time away from work to do something they've longed to do is becoming a reality.
But what if your company doesn't offer a formal sabbatical program? You wonder… Is it really possible to get my employer to agree to a career break?
It was for Randa, a New York-based television producer for a major, international news network. After working in her job for almost seven years, Randa, 31 and a talented vocalist, contacted the yourSABBATICAL team with a wish: to take a three-month sabbatical so that she could perform in a rock musical in Montreal and work on a documentary film project. Her company does not offer sabbaticals, so she was faced with the challenge of pitching her case to her boss and the company's HR leaders.
No one had ever asked for a sabbatical at Randa's company, and she was very nervous about how her doing so would be perceived. She used our toolkit to craft her proposal and prepare herself for her meeting with her boss. And she was successful!
"My meeting with my boss was seamless, because I knew how to pitch the concept and my sabbatical proposal outlined all the benefits to me, the team, and my company," Randa said. "They are even using my suggestions for how my work will be covered."
Considerations For Your Proposal
Now may actually be one of the better times to ask your boss for a sabbatical, because many companies are looking for ways to cut costs without losing talent. Asking for a temporary leave with only benefits or partial pay with benefits may be a win-win.
However, a successful negotiation requires significant forethought and planning. Pitching the concept of a sabbatical to your boss must be done tactfully and strategically if it's to be a step up and not career suicide.
Before you even consider asking for a career break, your answer to the following question must be a resounding "yes": Are you a valued contributor and high performer in your company? If you're not considered "top talent" by your company's leaders, then they have little reason to accommodate you in your dream of taking a sabbatical.
You should also be prepared to educate your employer about what a sabbatical is and how it's being used in companies to retain and even develop talent. Many people have the misconception that a sabbatical is merely an extended vacation. In fact, a sabbatical is a planned, strategic job pause during which an employee takes time to travel, do research, volunteer, learn a new skill, or fulfill a lifelong dream before returning to regular work. It's an opportunity for intentional reflection, personal growth, transformative insights and renewed passion – powerful benefits in life, work and leadership. The most meaningful sabbaticals are planned ones, with specific goals and objectives – even if one of those goals is simply to recharge.
Imagine you're getting ready to request funding from a venture capitalist for your innovative technology start-up. Even if the venture capitalist "gets" your concept, he/she isn't going to fork over some capital unless you have a clear business plan that can be successfully executed and, in turn, bring some serious return on investment (ROI).
Key Elements of Your Proposal
Just as a business plan is critical for landing a new venture, a sabbatical proposal is critical for negotiating a sabbatical. Your proposal will be the "executive summary" of your thinking to date. It's your opportunity to show, in writing, how your sabbatical will bring some undeniable ROI to your employer.
Creating a clear, concise and well thought-out proposal will:
Elevate your sabbatical request to a higher level of consideration.
Show logic and your level of investment to benefit the company.
Provide clarity on your ideas, goals and plans for a sabbatical.
Create a document your boss can use to become your champion and earn approval from his/her executive team.
Help you be more articulate when presenting your request to your manager.
A successful negotiation – one that is a win for both you and the company – requires honesty, earnestness, trust and flexibility. Your sabbatical has the highest chance of approval if the following conditions are true:
You have a well-crafted sabbatical proposal that genuinely and passionately addresses the potential concerns and possible benefits for your employer. If you believe in earnest that asking for time away is a true asset to your career and your company, it will likely show in your conversation with your boss. Make sure it's also successfully communicated in your written proposal.
You have a relationship with your boss built on trust, and you're prepared to have a frank, professional discussion with him/her. Good negotiations are about relationships and trust. Are you trustworthy? Does your boss trust you? Do you trust your boss? Trust trumps power for a successful negotiation for your sabbatical.
You are a valued, high-performing contributor at your company. Negotiation experts say to "present your argument from a position of power." When negotiating for a sabbatical, your "power" is based upon what you've brought to the table in terms of past performance and your commitment to the company..)
You are equally open to listening as you are prepared to "pitch". If you're doing all of the talking, you can't be sure how the negotiation is going. What is your boss thinking? What's he/she concerned about? What's a barrier you need to overcome? You can't know the answers to these questions without listening.
You are willing to be flexible, if necessary. Business results reign. You may be asked to revisit the dates of your sabbatical because of an important project, do more homework on the global experience you've proposed, or rewrite parts of your proposal. Being flexible throughout the process of negotiating your request for a sabbatical demonstrates your willingness to listen, collaborate and show value for the company, as well as showcases your integrity by being responsive.
For more Information: Negotiating Your Sabbatical: The Ultimate Toolkit for Writing and Presenting a Killer Sabbatical Proposal Your Boss Can't Refuse.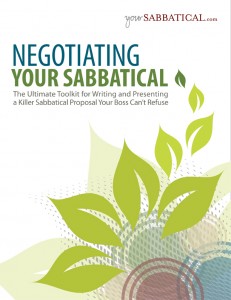 Ready to educate yourself about the trends and benefits of sabbaticals – both for yourself and your employer – as well as write and pitch a winning proposal for your time away from work? The best place to start is with Negotiating Your Sabbatical: The Ultimate Toolkit for Writing and Presenting a Killer Sabbatical Proposal Your Boss Can't Refuse. You won't find a more comprehensive resource out there for helping you make your dream career break a reality.














About Elizabeth
Elizabeth Pagano is a co-founder of yourSABBATICAL.com, which partners with businesses to implement customized sabbatical programs that attract, retain, and accelerate top talent through personal and professional enrichment. Designed properly, sabbaticals result in enormous returns for individual sabbatical-goers, their work coverage teams, and their companies' performance. yourSABBATICAL is led by a well-seasoned, inventive team of leaders in talent, leadership, and organizational development.














Disclosure:
Some links on this page are affiliate links directing you to the Your Sabbatical website. We will earn a commission if you purchase the e-book.  We contacted Elizabeth to write this post for Career Break Secrets. The topic was selected by Career Break Secrets.
If you like this post, sign up for our newsletter or subscribe to our RSS feed to keep up with Career Break Secrets' career break and travel advice.
Tags: career break advice