I am back in the US for about a month to take care of business, see family, attend a cousin's wedding and see my dog, Max, that I left behind when I took my career break.  I now spend most of the time outside the US so when I come back, I always notice there are marked differences in how Americans travel than others around the world.  So, as I chuckled my way from Bogota to Houston and on to DC, here are the top 6 things that caught my attention.
1. Security rules.  Flying into the US is different than any other country in the world.  There are exhaustive checks to make sure that, at a minimum, we don't go over the 100ml liquid limit.  I get that due to geo-political reasons, the US has to be more cautious than say South Africa, New Zealand or Chile.  Even in Colombia, we don't have this much security for internal flights.  Of course, for international flights the army opens up all carry-ons to catch unsuspecting drug mules. But, I don't miss the hassle when I'm galavanting to other parts of the globe.
2. Service without a smile.  The US government immigration and customs services may be more efficient on average than many other places in the world, but it is certainly not the friendliest.  From passport control to customs to the TSA, nobody smiled.  I don't need to be friends with my government agents, but, hey, I'm just passing through trying to make my connection.  In Autralia last year, the customs guy took away my dried fruit and nuts bag and wasn't an ass about it.  So, please, why don't you save your wrath for the guy in the passport control line who's yelling at his buddies across the room (yes that really happened yesterday).
3. Yes, Americans can be loud.  I've traveled enough to know that Americans are not necessarily the worst travelers in the world.  The dumbest foreign or most naïve at times?  Probably.  But, I've learned that whenever you get a group of folks from one country together in a land, the least flattering parts of that culture can come out (I have the booty shots from Turkey and Egypt to prove it).  Having said that, I do think Americans can be the loudest. It says a lot that all over South America, "Oh my God" has been adopted and used to personify the "typical" American traveler.  Leaving Bogota, I came across a game of what I will call "Redneck Go Fish."  These guys were very into their game and we all got to be a part of it.  I suspect a late night cerveza or aguardiente before our red-eye helped turn up the volume.  I'd like to think that when I travel I'm more sensitive to Americans talking because it's the most familiar sounding conversation.  And, ti doesn't matter is it's a deep southern drah-hawl or a thick Lon-Gi-land wang.  I know deep down, we are a bunch of loud talkers.
4. Skymall pervades every flight.  There is no symbol of American consumerism quite like the Skymall magazine.  I willl admit that I have made a couple of purchases in my past.  But, I have become accustomed to international duty free shopping which is just as commercial as Skymall, just not quite so gaudy. The latest issue made me laugh out loud from Houston to DC with its latest collection of must-not-have items…so much so I couldn't help taking the magazine with me so I could write about the products that I found particularly ridiculous.
5. A la carte pricing.  Luckily my connection flight to DC was part of an internation ticket so I didn't have to pay for my checked bag.  But, I know when I hit DCA to head to Texas, I will have to pay for my checked bag.  Most South American airline companies still do not have a la carte pricing for their domestic flights which means no baggage fees.  And, even if you break the weight limit, you might even be able to smile, wink or nod your way out of paying a fee.  I don't look forward to the nickel and diming when I take that flight to Texas.
6. Respect for lines.  I will end on a positive note.  One of the things I love about flying in the US is the American respect for lines.  We may complain because they are slow or long from time to time.  But, as a culture, we respect the line, in large part because if you try to cut, you will get roundly criticized and shamed until you go to the back of the line.  One thing I've witnessed in Brazil, Argentina, Chile and Colombia is that people queue for lines until someone decides that they won't…and cut.  I have never seen anyone chastise the line cutter.  And, it drives me nuts.  The important corollary I also give kudos to the way Americans exit the airplane.  I love that people in the US wait until the rows in front of them deplane. It's one of the few things that makes the loud-talking, unfriendly, consumeristic, nickel-and-diming, anal-retentive, gaudy trip back to the US a little bit palatable.
Are there any that I missed? Let me know. Leave me a comment.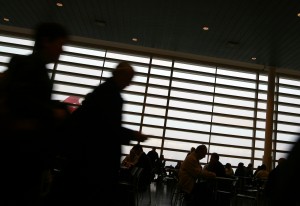 If you like this post, sign up for our newsletter or subscribe to our RSS feed to keep up with Career Break Secrets' career break and travel advice.
Tags: travel advice