in-the-news
Written By:
jeff
Posted On:
April 27th, 2010
I am working on a new travel planning series to help people better plan their career break or round the world (RTW) trip.  Given the wealth of information and tools that are available, there is no way I can get around to everything that´s out there.  I know what I use, but what do I […]
Written By:
Cheryl Habbe
Posted On:
November 19th, 2009
Season 1 of our Video Travel Guides created specifically for career breakers is currently in filming. Due to be available in 2010, the first season will take you to Spain, South Africa, New Zealand, Patagonia and Colombia.
Written By:
Jeff Jung
Posted On:
July 15th, 2009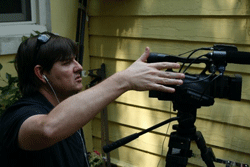 It has been two and a half weeks since I started filming and what a ride it's been. I left Bogota, Colombia where I now live, on August 1 and since then I have been to the US (Austin, Tampa, Washington DC), Ireland (Cork), the UK (London, Manchester), the Netherlands (Amsterdam, Nijmegen), and now to Spain (Barcelona, Burgos, Santiago and Madrid with a few small pueblos in between). We are in process of capturing our first videos for the site and for the video guides.