cheryl – founder, marketer, career breaker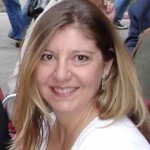 Cheryl's love of travel began during a 2-week trip to Europe after high school graduation. Yep, that was 2 weeks in Europe – done the traditional American way – spending just a couple of days in a few key cities like London, Paris, Amsterdam. It was enough to give her the bug, and since then she's traveled extensively both inside and outside the US, doing it the right way with extended time to see the country experience the culture and meet the people.
On a career break in 2001 she discovered an interest in massage therapy and other natural healing practices. After returning she got her massage therapy license in the state of Texas. Although she returned to her career in marketing and advertising, she has kept up her studies in therapeutic massage and travel is still a very important part of her life. In March of 2008, she was able to travel to India with a group of volunteers from The Miracle Foundation to visit and work with their orphanages. On that trip she met the child that she has been sponsoring for several years and see the grand opening of another orphanage. This destination will stay on her list, she hopes to return on a regular basis.
After meeting Jeff in 2004, while working on a project, they became fast friends due to their mutual love for dogs and traveling. When Career Break Secrets was formed, and since their bid to run the Amazing Race together didn't pan out, she was a good fit for helping with the creation of the company and marketing.
Sign up for Career Break Secrets Updates!