market
Welcome to the Career Break Secrets Market. These are our hand-picked, travel-inspiring products that we recommend for you if you are planning, or dreaming of taking a career break. These are all great products for you or as a gift for someone else! Do some shopping, because life is out there.


Meet Plan Go! Boot Camp
The Meet Plan Go! Career Break Boot Camp is an 8-week course and seminar series specially designed by certified Travel Coach Tara Russell and career break travel gurus Michaela Potter and Sherry Ott. Each lesson covers key concepts for travel preparation such as finding inspiration, overcoming mental hurdles, saving & budgeting, alternatives to traditional tourism, owning your journey, essential to-do list items for the road, home & career, and preparing for re-entry. Sign-up begins on December 8th. Cost: $500 for the 8-week course. Special Offer! –  the first 20 people to sign up receive a $100 gift certificate for Chris Guillebeau's product line – seen here. All people who sign up (60 max) will get a free copy of his book Art of Non-Conformity. Click here to visit Meet Plan Go.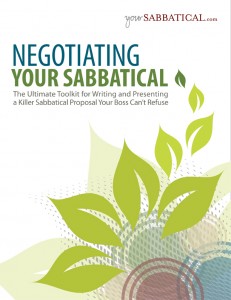 E-books from Your Sabbatical
Don't just sit there wishing your company had a sabbatical program. Convince your company's decision makers to give you one! With Negotiating Your Sabbatical you'll have access to the ultimate toolkit for preparing a winning sabbatical proposal. Simple to follow, step-by-step instructions guide you through the process of zeroing in on your company's sabbatical benefit areas, preparing a killer written proposal, and preparing yourself to negotiate the particulars of your career break with your company's leaders. 84 pages. Cost: $49.95
Expert Advice on Incorporating a Sabbatical or Career Break in Your Resume or Professional Bio – There's power in time off. If you think time away from work is something you should "hide" on your resume, think again. It can be a compelling addition to your personal brand and unique offerings. Cost: $4.95. Click here to visit yourSABBATICAL.com.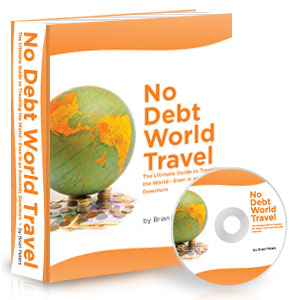 No Debt World Travel Guide
The definitive guide on world travel that is comfortable, safe, and inexpensive, covering the A to Z on getting cheap airfares, health, where to stay, cash and credit cards, safety, passports, travel advisories, visas, precautions, pre-trip timeline, insurance, food, language, climate issues, best online resources, packing checklist, travel tech, budgeting, resources on the road, food, etiquette, price comparisons, and bunch of great travel stories sure to pique your interest. Cost: Regular $67.00, on sale now $37.00. Click here to visit NoDebtWorldTravel.com.
Overcoming the 7 Majors Obstacles to Traveling the World the eBook
You may have already read some or all of the series over the last few months and having it all in one place and reading it through can have a powerful effect if you want to travel the world but don't know where to start. It's also a resource you can have with you to check on your progress or give you a boost when you need it from time to time. I'll also send you free updates to the book which will include new additions to the series. I hope you're ready to pick apart each obstacle and overcome them one by one. Cost $8.00.  Click here to visit foXnoMad LLC.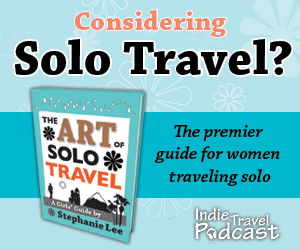 The Art of Solo Travel
People do it you know! And you'll find the world is a friendlier place than you might expect. The Art of Solo Travel: A Girls' Guide (PDF) will answer your practical questions, relieve you of your fears, and get you out the door, enjoying the world in all its fullness. Cost $12.95. Click here to view more details