media page
Jeff Jung, Founder | media @ careerbreaksecrets.net | Media line: 512-782-9670
Work-life balance is a pipe dream for most people. Leaving it all behind is a deep-seated dream put off by career demands. Career Break Secrets provides advice and inspiration for career breaks and long-term travelers. Our Career Break Travel Show is hosted by Jeff Jung, a career break veteran since 2007 he has been to 27 countries and speaks 3 languages. He knows how to get around countries, get the most out of travel, stay on budget and connect with the locals. In short, he knows how to plan a better career break and make it count.
Interview Preparation
We've prepared a short document to help you with your show preparation. Need something visual? We can provide you with photo images and video from the show. Jeff is happy to do live call-in radio shows to engage directly with your audience. If you need anything else, just let us know.
Click for Show Prep (.pdf download)
Jeff's :90 Reel. Take a Peek At Jeff On the Road and On TV
[pro-player width='600′ height='400′ type='video' image='http://cbs.videos.to.post.s3.amazonaws.com/ReelJeffDic06_poster.jpg']http://cbs.videos.to.post.s3.amazonaws.com/ReelJeff_desktop.m4v[/pro-player]


A Recent Career Break Interview with CTV in Edmonton
[pro-player width='600′ height='400′ type='video']http://www.youtube.com/watch?v=KPUjKaKWjVQ[/pro-player]


Contact experienced traveler, Jeff, to have him share his travel secrets and passion for travel with your audience.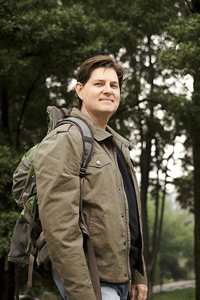 Jeff 's bio
Known as the ¨Career Break Travel Guy¨, I started Career Break Secrets after taking my own career break from 2007-2008. An international traveler since my first trip to Australia at the age of 16, my career break made me a true citizen of the world. I left a fantastic but crazy consulting turned corporate marketing career to learn Spanish fluently in South America, see magnificent sunsets and sunrises in far flung places like the Galapagos, Easter Island, Cappadocia, and the Nile River and learn to ski (at the age of 36!).
I relocated to Bogotá, Colombia after my career break and started Career Break Secrets to inspire others and help them plan their own career break journey. In 2009, I set out to film the first season of The Career Break Travel Show. I want to show people that a career break is possible, real people do it, and how to get the most out of their own journey.
I'm encouraged and thrilled by the reception Career Break Secrets has found among travelers looking for a different way to see the world and an alternative way to manage their life and career. In addition, we've been covered by several media outlets in the US, Canada and South America on TV, radio, print and online. I love sharing my story and secrets directly with people through the media. It's not uncommon for the host to get carried away with the topic!
Radio & TV Appearances
Amateur Traveler Episode 81 – Jeff Jung and "Kung Fu Airlines"
This Week in Travel #81 – Jeff Jung and "Kung Fu Airlines"
Written Contributions & Interviews
As a travel expert, Jeff provides insight on how to plan and make the best of your long-term travel adventures.
& Seattle Times Laid off? It's time for a trip
Regina Leader Post New Labour Day Poll Reveals Canadians Lack Work Life Balance
Examiner.com New Poll Reveals Canadians Lack Work/Life Balance and Crave Career Break
Calgary Herald Gap Year for Grown Ups
AOL Canada/WalletPop How to Take a Career Break Without Ruining Your Career
Canada.com Leading Career Break Expert Shares Sabbatical Secrets
Adrian Brijbassi Want to Leave Your Job to Travel? Jeff Jung Tells You How
Reb Stevenson Cubicle or Taj Mahal? How to Take a Career Break
Chic Savvy TV Host Jeff Jung Shares His Secrets for Ditching the Rat Race to Travel
Explore For a Year Interview with Jeff Jung of Career Break Secrets
Canadian Living Travel Talk: 10 Tips to Help Plan Your Career Break

The Worst Rookie Travel Mistakes and How to Avoid Making Them

Latin America on a budget: Bogota, Colombia

Safeguard Your Cash: Personal Safety Tips for Traveling Abroad

Interview of Fellow Travel Video Blogger

Lessons I've Learned From Travel




Corporate American Runaways On The Rise




The Sabbatical: Personal Revival




Ode to the Dietz Bakery




How to Have a Good Volunteer Experience on Your Career Break



Travel, Stories and a World of Understanding and Travel for the Common Good




Top 10 List of Things That Will Surprise You About LIfe in Bogota

Going it Alone: Top Tips for Solo Travelers





Series of photo essays:
The Art and Architecture of Bogota, Colombia
A Sunday Stroll in Bogota
Discovering Villa de Leyva, Colombia
Turkey