South Africa Series
The Most Entertaining Way To Plan For Your Trip!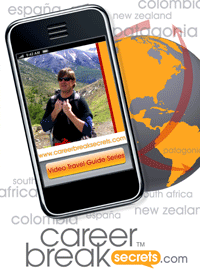 Delivered digitally
watch on your computer at home or watch on any portable device.
No wait, no weight, no waste!
Professionally produced, shot in HD
see all the action, hear from the local experts, and learn from experienced travelers.
Top Secrets that focus your planning
we've done the ground-work and highlighted just the information you will need.
Independent advice
expert planning advice and interviews by an experienced, independent traveler.


Episodes cover one of these three types of popular career break activities:
Ways to pick up a new skill like learning a foreign language, sailing or cooking
Ways to give back and volunteer whether for social or conservation causes
Cool ways to see the country by bike, boat, foot, train or other things we can find
With great weather, wildlife and iconic landscapes, South Africa has attracted visitors from all over the world for years. In addition, South Africa is increasingly popular destination for voluntourism. There are hundreds of non-profit organizations dealing with conservation and humanitarian and social issues. Some of these have formal volunteer programs and others do not have the resources to manage one, even though they could use the help.
There are few independent resources to help the would-be volunteer select an appropriate program where their skills match the organization's needs ensuring that they have a positive impact on the not-for-profit organization. And, there is little information for how a potential volunteer should navigate the voluntourism system to make sure they ask the right questions so there are no major surprises once they are on the ground in South Africa
In our two HD episodes, we tell the story of two not-for-profit organizations in South Africa through the eyes of their volunteers. We follow them around documenting what their day is really like. And, we get their best advice for people wanting to volunteer to help inform your own search for the perfect volunteer opportunity.
We are offering these two pilot episodes from South Africa as a FREE Trial when you sign up for our monthly newsletter and as bonus episodes when you order the Season Pass for all of Season One episodes, or if you choose to order a Country Pass from one of the countries featured in Season One.
South Africa Country Pass Free Trial – 2 episodes, fill out the form below to sign up for our newsletter AND receive your FREE episodes:
Pilot Episode 1: Volunteering At Monkeyland
Monkeyland is the world's first free-roaming, multi-species monkey sanctuary.  The primates are sourced from former pet owners, zoos, circuses and labs. Once at Monkeyland, they are returned to a semi-wild state which is enforced by a strict no-touching policy.  In this episode, you will
See a day in the life of a volunteer, Tom
See what Tom's responsibilities are
Hear from the volunteer coordinator, Lara, on what types of volunteers attract and what types of jobs Monkeyland's volunteers do
See where Tom lives on the Monkeyland property
Get Tom and Lara's tips and advice for getting started in conservation volunteering at Monkeyland or in other programs
Get the 5W's and 1H overview of the Monkeyland program
Get the Career Break Secrets' Top Secrets for conservation volunteering in South Africa
See lots of cute monkeys
See it all in HD
Run time: 24:30 minutes
Download size: 1.41GB
Pilot Episode 2: Volunteering At Cotlands
Cotlands is an HIV/AIDS orphanage and community development center based in Johannesburg, South Africa.  Cotlands serves over 4,000 beneficiaries including the kids, mothers and grandmothers.  Cotlands takes volunteers from all over the world who work in a variety of roles.  In this episode, you will
See a day in the life of 3 volunteers, Peter, Carolyn and Brian
See what their responsibilities are
Hear from the Executive Director, Jackie and the Director of HR and the volunteer program, Bonnie, on what types of volunteers Cotlands attracts and what types of jobs Cotland's volunteers do
See where the volunteers live on the Cotlands' property
Get tips and advice for getting started in volunteering at Cotlands or for other social program
Get the 5W's and 1H overview of the Cotlands program
Get the Career Break Secrets' Top Secrets for volunteering for social causes in South Africa
Hear the kids sing!
See it all in HD
Run time: 25:04 minutes
Download size: 602.3MB